Chowa Concept Home: The Chōwa Home: A Study in Harmony KBIS2020: The Chōwa Home: A Study in Harmony
The Chōwa Home: A Study in Harmony
January 11, 2020 |  Categories: KBIS 2020, Chowa Concept Home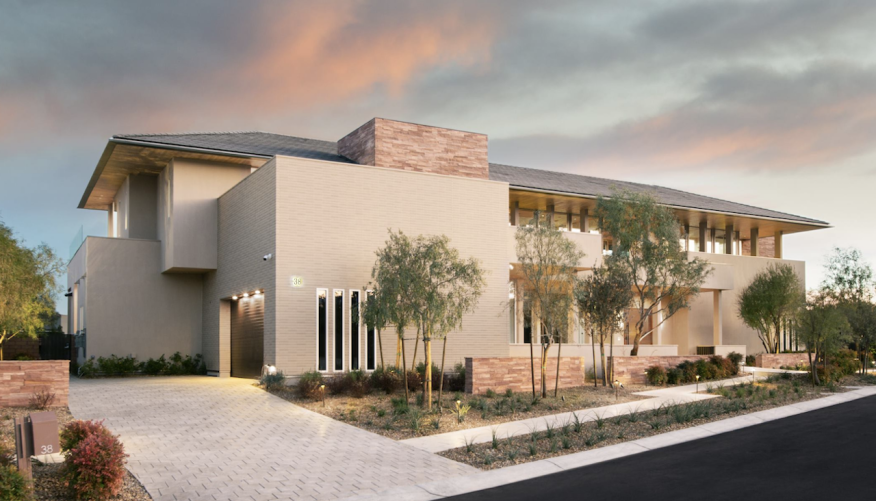 This year at KBIS 2020, builders, architects, designers, and innovators across our industry worked to create a Model Home as a centerpiece of innovation for this year's event. Builder Online, as well as Hanley Wood and a host of the industry's top companies created the 2020 BUILDER Chōwa Concept Home.
Announcing the project in early spring of 2019, dozens of companies, brands, and a cross-pacific team of builders began this exciting undertaking as a welcome challenge to push the principles of American and Japanese designs into a model home for the 21st century.
Modern design, minimalist sensibilities, intuitive usage, and floor plans dedicated to finding common ground are highlighted by the Nevada Skyline, and Design-Craft is happy to be featured across almost every room of the home.
A tight deadline and acute vision posed a unique challenge, and the cooperation between everyone involved is the driving force that allowed Sekisui House and Woodside Homes towards project completion in under a year.
Known for creating net-zero homes, Sekisui is a forerunner in the industry, creating no less than 43 thousand of these homes to date, and with Woodside Homes as a local firm familiar with the geography and climate, this home is both beautiful and thoughtful.
In the West Las Vegas area of Summerlin, the home was built using techniques that are four times quicker than a traditional build, produce less construction waste, and feature architectural and cosmetic features that offer the utmost in customization.
Sekisui House's subsidiary company Woodside Homes, along with dozens of the best brands in modern kitchen design built and furnished the home to be the next best iteration of the Modern American Home, with a study in harmonious living.
Utilizing techniques like Shawood post and beam structure, coupled with fire and earthquake resistant siding, this home is proof that compromising on looks for a lasting project is a thing to be left in past decades.
Mixed metal appliances across kitchens, lightly veined marble flooring against matte black cabinets, and delicate, omniscient lighting work together across the home to showcase a balance between natural materials, and modern convenience.
Companies like Kohler, Monogram Appliances, and DesignCraft have been installed in the home, and feature products that the growing American Market's preference for homes that promote the health and well-being of their owners.
Ergonomic designs, smart-tech enabled spaces, and environmentally friendly materials can be found throughout the home, reinforcing the values held by each of the companies chosen for the project.Naturally, the idea of harmony, and focus on resilience, strength, and beauty appealed to the acpi® team of designers, particularly for one of our brands, Design-Craft, whose interest in sustainability and modern details were well-aligned with the builders.
Each room offers possibilities only possible with collaboration, and Design-Craft is excited to offer updates on events, highlights, business updates, as well as a detailed view of the concept of Chōwa inside the home, and onward at the convention.