Chowa Concept Home: What is Chowa? KBIS2020: What is Chowa?
January 12, 2020 |  Categories: KBIS 2020, Chowa Concept Home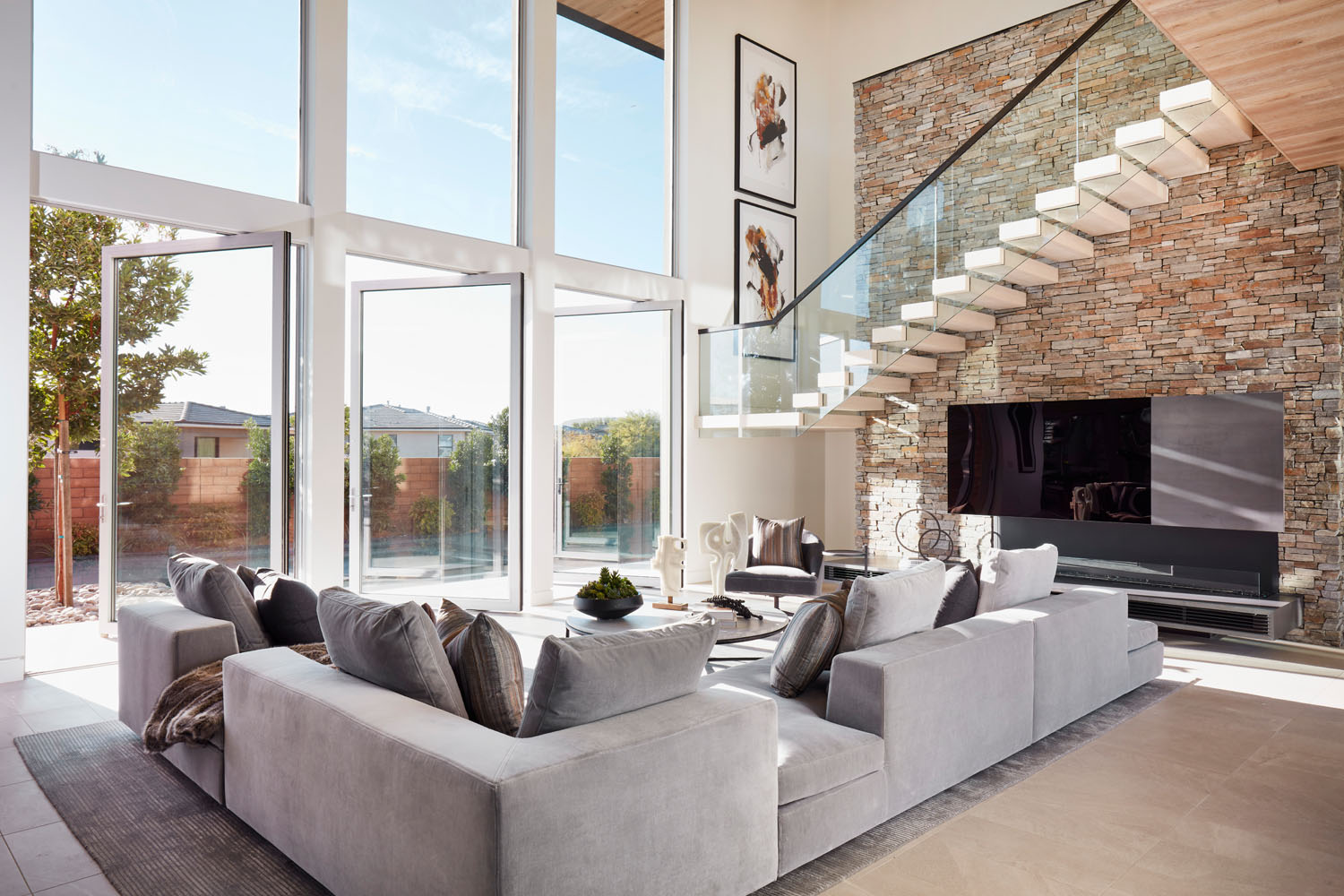 In music, harmony is the coincidence of two notes, that when played together, complement each other so much that they become better than either on their own.
In the industry, something similar happens when brands, designers, builders, and professionals across the spectrum get together to work on something that resonates with them. In short, clean lines are easier when you can all see the horizon, balanced design is possible when everyone weighs in, and the strength of a build comes down to how each piece fits together. This is the concept of chōwa.
The idea goes back decades, even hundreds of years, and posits that the pursuit of harmony and balance brings with it fulfillment. The Chōwa Home built this past year works to find balance between builders both sides of the pacific, strength and beauty, energy efficiency and smart living, the beauty of nature and the appeal of modern design.
Looking into the home, each room has its distinct purpose; kitchens for cooking, dining space for dining, bathrooms for bathing, and living rooms for celebrating life. What is also readily apparent, is, that each of the rooms works towards a greater "purpose"—the rooms work with each other to flow, compliment, and coexist alongside each other to make a collaborative, unified whole, that feels more like an environment, with room-specific climates, rather than several spaces attached at the seams.
Cabinets by Design-Craft are slab, utilitarian, with a touch of sophistication to feature American craftsmanship. Monogram Appliances in chrome, black, or mixed metal, all work together to emulate the feel of a modern, connected nest. If any piece, be it lighting, flooring, paint, counters, can't meet the standard, a whole room could feel lost. Thanks to companies like Kohler, Urban Effects, Daltile, and PPG paints the spaces feel complete in their own right, because the home feels united.
A smart home for the future can only be as smart as the materials used. Fire-resistant, Wind-proof, Earthquake-proof—this home is a verifiable fortress. Able to stand the tests of mother nature, and remain a beautiful addition to a desert sunset. Credit goes to the innovative building techniques, and materials, but another hero is the design.
Bold, not boisterous, majestic, not monolithic, the play on light and dark that goes from the silhouette down to the flooring is a blend of masculine, feminine, natural, and modern that allows for space to play in the realm of what a home looks like for our future. Sleek profiles of cabinets, elegant finishes for vanities, and naturalistic open shelving allow for motifs of balance throughout the home, when accompanied by their inverse—views of nature from the kitchen, minimalist-framed mirrors and lighting, and exact, calculated countertops.
The homes of tomorrow aren't built on guesswork, and if Sekisui House and Woodside Homes are making a model for the decade, they are going to lead by example. Precision in builds is becoming ever-more important, with a need to reduce waste, and improve turnaround time in a booming American Housing market. By working together with Woodside Homes, Sekisui House employed methods for the build that are up to five times faster than traditional. The American Craftsmanship and know-how of the American southwest that Woodside brings is paired perfectly with skills and processes that will be a true model for efficiency and stability in homes.
Specifically, as applied to the BUILDER Chowa Concept Home, there are four key principles and themes which frame the mission and purpose for research and development:
Collaboration – As Woodside Homes has become a Sekisui House family member, the opportunity, across both organizations is to blend—through innovative collaboration—efforts to showcase the best of what both Japan and US builders have to offer.
Resilience, Strength, & Beauty – Sekisui House has designed every aspect of a proprietary metal joint system, and used smart and elegant engineering principles to build a strong, beautiful and long-lasting home using precision manufacturing.
Precision-Crafted – Precision manufacturing, the only option to truly live up to the values of Sekisui House, allows for elimination of waste, high quality, and an economically viable business model.
Sustainable, Energy Efficient, Safe, and Healthy–Sekisui House is a leader throughout the world on sustainable building. Having achieved world leadership status in the development of numerous environmentally and sustainably-conscious products, Sekisui House has sustainability as a core corporate target. Sekisui House is now the global leader in the construction of net-zero-energy homes with more than 35,000 built since its net-zero energy product was launched in 2013.